Since I take a lot of photographs with a dSLR, I'm often asked by others for advice on camera purchases.
I think if they saw my photo album, they'd not be asking such questions. In fact, a digital SLR photographer is the last person you should be asking for advice as their needs are different from yours.
But since it was my brother's wedding and the cell phone just wasn't cutting it for snapshots, I was enlisted again to advise on a digital camera for the wedding registry.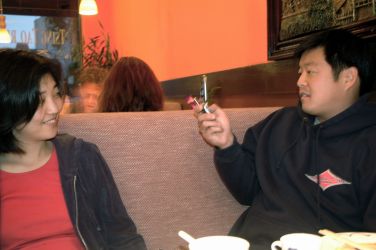 My father goes digital
A few years ago, my father asked me if I thought the Canon S230 that he saw at Costco was a good deal. "Yeah, that's a great digicam. The problem is that your computer only has half a gigabyte hard drive. You can only store about a hundred photos on it if that's all you do."
Last year, my Christmas present for him was my old computer (with 1000x the hard drive space), a Canon S500, and a memory card which was as big as my father's old hard drive. Now I'd never get this camera for myself—by today's standards it has horrible shutter lag, a tiny LCD, and a lack of features.
But my father's a conservative guy. He had stopped taking photos with a Pentax SLR (that was older than me) because it was too much of a hassle: "Terry, I'm retired. I don't have time for that." The S500 turned out to be a near-perfect camera. A simple interface and impeccable optics. He was taking pictures and saving them in iPhoto within hours of opening the gift.
(The only flaw turned out to be the movie mode—he ended up with a bunch of worthless movies when he accidentally switched the camera to movie mode during a trip. I had forgotten to tell him that feature existed. Why would I remember that? I don't have movie mode on my D70. This is why you should never ask someone like me for a camera recommendation.)
A camera for my brother
So I guess the right thing to do is try to fit the camera to the person. For my brother and Mia, my recommendations were:
Why? All of these are incredibly small, and size will be the limiting factor on whether or not they'll have a camera around to take snapshots with. Which one of these should they put on the registry? Well I told them to go to a store and play with them, then pick the one which they think looks the coolest.
Huh? What about which one performs the best. Shouldn't I read all the reviews? What about megapixels? That's a buyers dilemma thing. Sure you can read all the reviews if it makes you feel better, but the reality is: they all have similar performance. The first-order question is not: "How great a photo will you take?" but rather "Will you take a photo?" No camera will answer the former question; only they can answer the latter.
My current favorite
My ideal camera is a little bigger than this. It would be something that swipes the Canon S* optics but fixes all the crappy "pay-too-much-for-too-little-because-we-can" Canon B.S. Also, I'd like a lot of manual modes.

In other words: the Casio P700. I decided to take a trip down lust lane and look up some recent reviews of it and ran across this C|Net review posted this week. This review became the inspiration for this article. I have three words to say: (Warning: strong language follows…)
What the fuck?
Honestly: a wake-up time of 3.3 vs. 2.7 seconds? A "paltry" 15fps in "movie mode"? "crisp details befitting the camera's 7-megapixel sensor"?
How many megahertz is your CPU? Let's just pull out our dicks and start measuring penis sizes while we are at it! This is why computer reviews suck ass. Rate two pieces of software by how many worthless features it comes with. Rate two pieces of hardware by how fast it runs an irrelevant benchmark. Go to Best Buy sometime and wait a while. Eventually you'll see a person point to two nearly identical computers and ask: "What's the difference between these two?" The answer will invariably center on some specification difference that they managed to fit on the 3×5 cards in front of the two machines.
Why not concentrate on the things that the target market would actually care about: the tripod mount location; the lack of camera RAW; or how usable the viewfinder is?
No, that would actually require someone who actually might purchase a P700 to review it. Instead we get a laundry list of features "upgraded" from the hopelessly outdated P600 because obviously that 8% realized image resolution1 increase is the difference between night and day!
I bag on photography reviews all the time because their obsession with test shots that highlight differences that you never run into in practice. But if anything, a little arbitrariness is a hundred times better than the C|Net review.
1
Remember that pixel count goes as the square of the linear distance (because you can fit pixels along both dimensions). This means that two times better than a 4 megapixel camera is not 8 but 16! Seven megapixel is not 17% better more resolution than six, it is 8%.
Also remember that the imaging chip hasn't really changed size, only the density has. Even though the resolution has gone up, the light gathering capability per pixel has actually gone down. This means they have to improve the sensitivity of the CCD or up the gain on it to keep the same film speed. Usually this means more noise and poorer low light performance.
By this strange math, my 6 megapixel D70 (16x24mm sensor) is has about the same acuity than the Canon EOS-1Ds Mark 2 at 16.6 megapixel (36x24mm sensor)!