The company I work for started offering printed holiday cards. I really like the holiday list maker we built, but I'm not using them. The selection is poor. (Luckily, that is offset by allowing you to upload your own photo, which I recommend you do.) I'm uncertain they got the color calibration correct on their dye-sublimated printers. (That is a problem I've found with even photo printing services, so it is unfair to blame our partner.)
But really, it's just not me.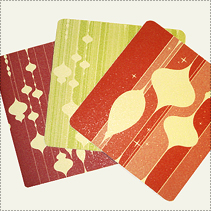 Even though I almost never send holiday cards, I am always on the lookout for great Christmas cards and buy them when I find just the right one. Potion Brand is a wonderful example of cards done right, in a way you just can't get through a service: square cards, vellum envelopes, sparkle! I bought a couple boxes and I'm sending them to the people at work this year just to remind everyone at work what a real holiday card looks like. Perhaps I'll get a few boxes for next year for everyone else.
Update: The cards didn't arrive in time. I guess it goes out next year.