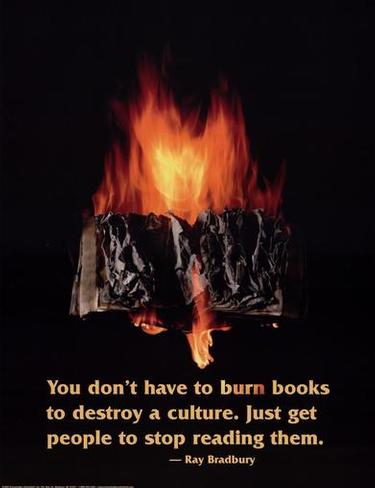 "You don't have to burn books to destroy a culture. Just get people to stop reading them."
When John Dvorak visited my workplace, I was introduced as "the Mac guy."—the split second double-take on his part was funny. But he was amused that a coworker had programmed an old Apple //c we had lying around to generate ASCII art so it's all good. He did tell me to read his blog.
I can't keep up with him. He's the Steven King of the tech world. But every so often I click on a random entry from him to see what is interesting out there.

Today it was this entry listing "the most harmful books" as nominated by the apologists for the wingnuts who have taken over the conservative movement. I love John Dvorak's dig about Men are from Mars,Women are from Venus. You have to read the readers' digest-like summaries the article linked gives of these works—what a riot of ignorance.
What I want to pillory in this entry is this comment left by Tom McMahon, a reader of Dvorak's blog:
Number 1: The Communist Manifesto
Number 2: Mein Kampf

Millions upon millions of people were killed by the followers of these two books, so they definitely meet the harmful standard. Really, what's so sad and pathetic about pointing this out?
By Tom's criteria, had it been eligible, how would the Bible have fared?
Now that is sad and pathetic.